Hyperlexia
Hyperlexia is defined as the ability to read and identify words without any previous training in learning this skill, which generally occurs before the age of 5. This ability indicates that some children have a greater word decoding capacity than the rest and this means that their reading and comprehension levels also exceed those of a typical child of their age. Hyperlexia is defined as a precocious ability to read in children who have social, cognitive and linguistic handicaps[1].
Children with Hyperlexia generally have a greater intelligence quotient which is always above average and this gives them a greater word reading and comprehension ability which exceed that of other children of their age group. Discovered for the first time in 1967, Hyperlexia is seen is a super-ability which is associated with word recognition that is un-natural or unusual for a particular age group. Some children having this ability however, have some degree of difficulty in comprehending or understanding speech[2].
Experts and scientists now believe that nearly all kids having Hyperlexia are on the autism spectrum. Some scientists on the other hand believe that the involvement of autism in Hyperlexia entirely depends upon the type and cause of Hyperlexia in question. According to various surveys on the subject, it has been concluded that nearly 10% of all children having autism are Hyperlexic. DSM-IV recognizes Hyperlexia as a part of the Autism spectrum disorders but it is not always related to Autism.
Diagnosis of Hyperlexia: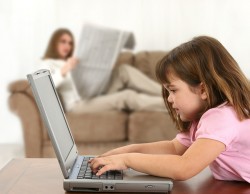 There is a certain degree of fascination seen in children with Hyperlexia for words and numbers. They are exceptionally brilliant at decoding words and language and mostly become avid readers. There are some cases of Hyperlexia whereby a child has the ability to spell long words, for instance 'elephant' even before he/she reaches the age of two. By the age of three, these children have the ability to read complete sentences. It has been concluded with the help of an MRI that Hyperlexia is actually the opposite of dyslexia in neurological terms. Hyperlexic children show exceptional qualities in decoding words and language but have poor or average comprehension abilities, whereas a dyslexic child has poor abilities when it comes to word decoding but has average skills in terms of comprehension.  
Children with Hyperlexia can sometimes only learn with the help of heavy repetition or rote. Despite their exceptional skills in word recognition and decoding, they may face difficulties in learning the rules of their language and this may cause a number of social problems for them. These children fail to learn languages with the help of trial and error. The children also struggle due to poor social skills.
Most of the children who are born with Hyperlexia can read words and recite their alphabets when they are as young as two years old. They can read sentences or spell larger words by the time they reach three. Majority of these children acquire a fascination and passion for words, numbers and books. Almost always, this ability is looked at as a gift and hence most of the parents conclude that their child is a struggling genius. With this idea in mind, they often delay their child in acquiring help. The fact that the child has to struggle to learn is also a shock for most parents.
Types of Hyperlexia
Most of the scientists and experts agree that there are three main types of Hyperlexia that have been observed. These types have been enlisted as follows:
Type 1: These children start reading at a very early age and are neurotypical in nature
Type 2: These children also show signs of very early reading and lie on the autism spectrum. This ability is actually a splinter skill
Type 3: These children are early reader but do not lie on the autism spectrum. These may be many traits present that may resemble those seen in autism but they diminish and fade as the child grown older.
Characteristics of Hyperlexia:
Many of the characteristics of Hyperlexia are similar to Autism. It is usually misdiagnosed as an autism spectrum disorder, but it doesn't always have to occur with autism.
Children who are hyperlexic have an above normal reading capability, but their ability to understand spoken language is below normal. Hypelexic children also have poorly developed social skills. Most of the children have difficulty in speaking and will have to learn how to speak by heavy repetition and rote memory. They are also unable to understand the rules of spoken language and usually tend to grasp them after trial and error.
Whether Hyperlexia is an autism spectrum disorder or not is often disputed. Some texts categorize Hyperlexia in autism spectrum disorders while others recognize it as a totally different condition.
Symptoms of Hyperlexia:
The following symptoms can differ in severity in different children who have Hyperlexia. A diagnosis is usually made based upon these symptoms:
 A precocious and unnatural ability to start reading words that are far above the normal age of the child[3]
 Child may be extremely deficient in some areas and extremely gifted in other areas
 Difficulty in communicating and trying to understand verbal language, the difficulty is usually severe
Difficulty in interacting with people appropriately and socializing
 Awkward and Abnormal social skills
 Unusual  or Specific fears
 Fixation with numbers or letters
Echolalia (the act of repeating a phrase or a word that another person speaks)
Rote learning without comprehending the meaning
Extremely routine and ritualistic behavior and the child is unable to adjust to change
Treatment for Hyperlexia:
Usually the child develops normally until 2 years of age and then regresses. The treatment is the same as that for autism and there is no cure for the condition.
http://www.ncbi.nlm.nih.gov/pubmed/10349355
Cláudia Cardoso-Martins, Juliane Ribeiro da Silva: Cognitive and language correlates of hyperlexia: evidence from children with autism spectrum disorders
Susan M Miller: Reading Too Soon: How to Understand and Help the Hyperlexic Child